We are combining benefits of known systems
Our goal is to create and manage a website as easy as possible. So we developed an Online Website Creator to combine benefits of well known CMS systems to get the highest flexibility and best customer satisfaction. We offer beginners an uncomplicated start and professionals the scalability, which they wish. We don't ask if our software is better than others, but if it meets your needs. What are your requirements?
For Clients
Our software is easy to use, even for non-professionals. If you accidently deleted something - don't worry, our backup module can simply undo it.
No installation required
Expenable with plugins
Integrated backup system
SEO optimized websites
For Webpublisher
Whether it's Bootstrap 4 or Foundation 5 - we support everything. Thanks to our integrated CSS editor, all changes to the template can be made online.
CSS and Template Editor
Compatible with bootstrap and more
Integrated FTP Sync module
Developer-Kit for plugins
Thats why everybody can use it
Our system is flexible and scalable like a pro needs it, but still easy to use for a casual customer. The strength of our Online Creator is to combine these worlds, so everybody can use it. To get to this point we use a simple trick: We hide what the customer dosn't need, but a pro can simple see almost every code line. Our tool offers many other great benefits, but you should check it by yourself.

"This online software contains all the features you will need to build a simple or more complex website."
Read more
How it works
Everything is made online! A simple registration grants you immediate access to our Online Creator, so you can start right away and test your site in your own test system. After you are able to sychronyze your page to any server you wish! Choose one of our subscription plans and create your page!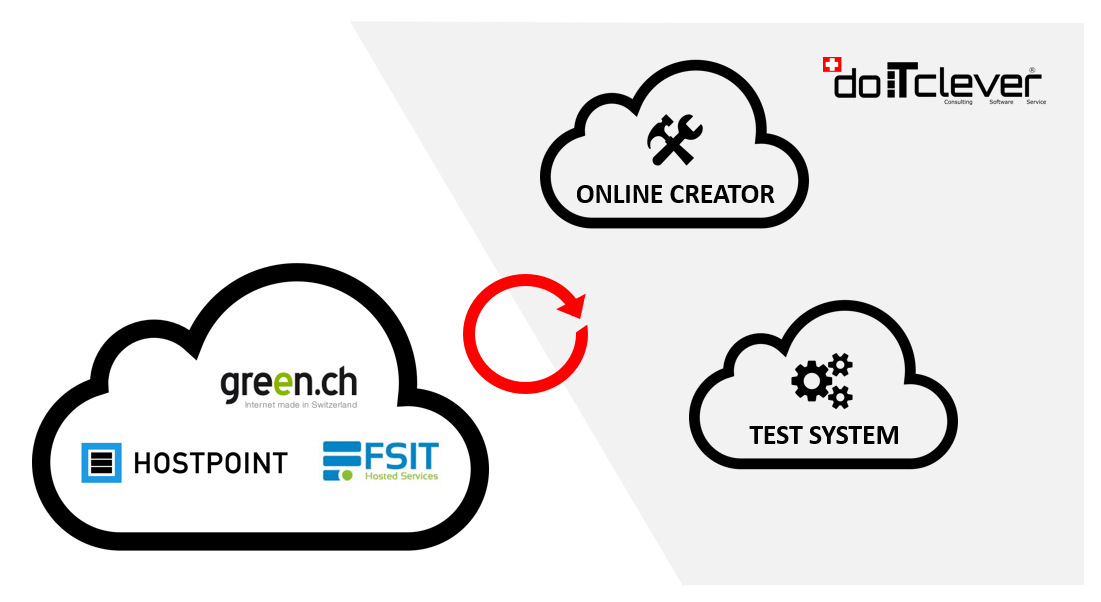 Once your website is finished, you can perform a direct test using your own internal testing area. In order for your website to work on your own server (www.yourname.com), you'll just have to use our integrated Synchronization Module. At the touch of a button, your current website status will be synchronized with a server of your choice, as long as your synchronization has been set up. You'll only need the FTP credentials of your server to do this - add them to the Online Creator and you're ready to go.
For technic enthusiasts
Our system gives you more control with its flexiblity and scalablility as many other systems. You can customize almost every line of code and even develop your own plugins. Our websites are generated dynamically at runtime and support Linux and Windows hostings easily. This allows you to keep your or your customer hosting as it is. So you don't have to cancel any contracts. Layout enthusiasts can choose from known layout libraries, like Bootstrap 4 or the Foundation Framework.
Are you an entrepreneur or a web publisher?
We are looking for partners who would like to test our Online Creator and use it to create projects for their own customers. That's why we've put together our special partner packages - if you're interested, we encourage you to take a look at our Affiliate Program.
Our Affiliate Program
Easy restoration of deleted content
Quick website transfer - to your server of choice
Plugins to expand your software easily
Tracking of all visitors and clicks on your website
Testing system to try out all possible changes
Website preview optimized for mobile devices
Full control over your website content
Editing and changing your design - online
File manager for optimal file organization
Manage your user account directly