The best of multiple systems
We love Wordpress for its flexibility and Jimdo for its easy handling. But we are going one step further and developed a software, which can combine the best of both systems. We present the Online Creator. He can be used without any installation and you can add additional plugins if you want. We offer beginners an uncomplicated start and professionals the scalability, which they wish. You can even build your own plugins and customize your layout. We don't ask if our software is better than others, but if it meets your needs. What are your requirements?
For Clients
Our software is easy to use, even for non-professionals. If you accidently deleted something - don't worry, our backup module can simply undo it.
No installation required
Easy to operate
Diverse plugins to choose from
For Webpublisher
Whether it's Bootstrap 4 or Foundation 5 - we support everything. Thanks to our integrated CSS editor, all changes to the template can be made online.
Online CSS Editor
Fully responsive templates
Monitoring and backups
Perfect for landingpagess
Landingpages are small websites targeted to achieve the highest possible ranking on Google depending on the product. Our Online Creator creates your own landingpage in perfect technical conditions. You will also get connected with one of our experts who will help you to create your perfect landingpage. Further information about landingpage can be found here.

"This online software contains all the features you will need to build a simple or more complex website."
Read more
Our Idea
We believe that it should be possible to create and maintain a website in the simplest possible way. To achieve this, we have developed an online website creator that can be used directly online by both amateurs and professionals. The amateurs can easily take care of the website's content, while professionals are able to manage the template. The cooperation between professionals and laymen is optimized and ultimately leads to great results.
The software is equally suitable for SME customers and web publishers. Due to its easy and user-friendly management, our Online Creator is a perfect tool for simple websites. With the use of plugins, your website can be extended almost endlessly. Experienced web publishers also have the option of designing their websites directly online and making personalized, specific layout adjustments.
Our modules
How it works
Everything is made online! A simple registration grants you immediate access to our Online Creator, so you can start right away and test your site in your own test system. After you are able to sychronyze your page to any server you wish! Choose one of our subscription plans and create your page!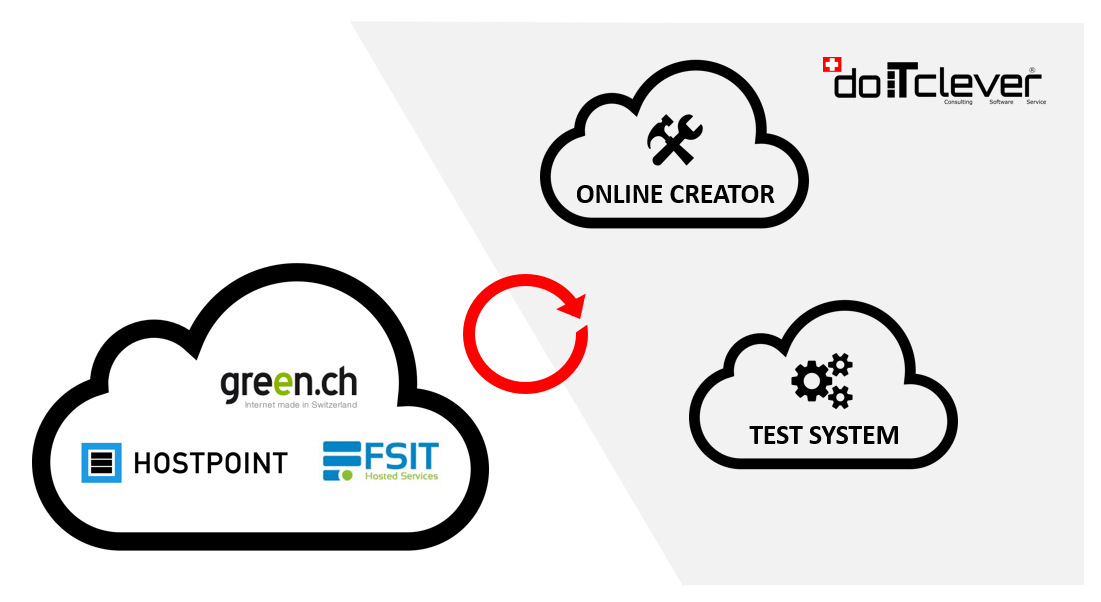 Once your website is finished, you can perform a direct test using your own internal testing area. In order for your website to work on your own server (www.yourname.com), you'll just have to use our integrated Synchronization Module. At the touch of a button, your current website status will be synchronized with a server of your choice, as long as your synchronization has been set up. You'll only need the FTP credentials of your server to do this - add them to the Online Creator and you're ready to go.
Are you an entrepreneur or a web publisher?
We are looking for partners who would like to test our Online Creator and use it to create projects for their own customers. That's why we've put together our special partner packages - if you're interested, we encourage you to take a look at our Affiliate Program.
Our Affiliate Program
Chose a design
Once you're a registered user, you'll be able to select one of the existing designs. We currently support both Bootstrap 4 and Foundation 5 templates. If you're an experienced web designer, you can also make changes to your project directly online.
Expand through plugins
You can easily adjust your website to your needs with the use of our plugins, but you'll need our paid subscription to be able to do that. Subscribers can activate any plugin they want. Each of them can be used separately.
Maximum safety
Our community is truly committed to keeping your data as secure as possible. Our safety standards are implemented at the highest level and with the latest technology. Hackers don't stand a chance.
Reach your goal through simplicity
Anyone with experience in online tools such as Wordpress or Joomla knows the diversity of their functions. However, most of them remain unused. Our focus is on the most important functions only, so we can offer you the highest level of user-friendliness.
Easy Backups
Our Website Creator can restore all of your saved backups. Did you mistype or accidentally erase something? Don't worry, the backup function lets you load an older version of your website - easy and quick.
Tablets and Smartphones
We don't stop at mobile devices either. Our CMS is also available on a mobile basis, so you can always use it on the go. Of course, websites created with our tools are responsive as well.
Automatic Synchronisation
Simple and clever! When you're satisfied with your website, the Online Creator can transfer it to any server of your choice with just one click. Of course, further changes can always be made and tested with our testing system.
Our functions at a glance
Easy restoration of deleted content
Quick website transfer - to your server of choice
Plugins to expand your software easily
Tracking of all visitors and clicks on your website
Testing system to try out all possible changes
Website preview optimized for mobile devices
Full control over your website content
Editing and changing your design - online
File manager for optimal file organization
Manage your user account directly